Order marking
Adding numbering to the mark of elements with the possibility of marking in the schedules
---
---
ICON


---
USING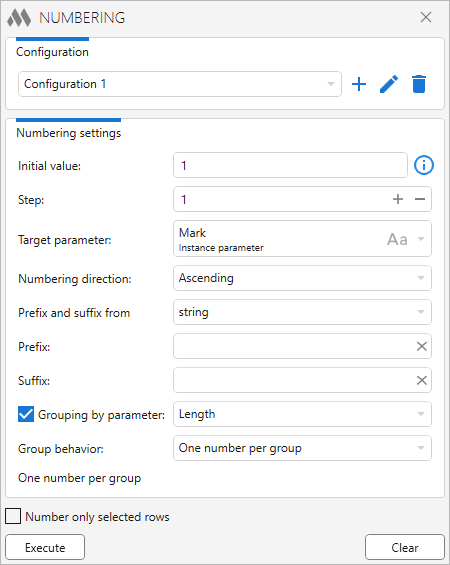 Mark prefix/Mark suffix – sets the prefix and/or suffix for the mark
In the "Settings" group, you can specify additional settings for the function:
Initial value – the initial value from which the numbered marking will be performed
Direction – indication of direction for numbered markings. For schedules, this direction is ascending or descending. For other species - direction depending on the location of the elements
Parameter name – the name of the parameter in which the numbered mark will be written. The function can only process parameters that contain a string value.
If the function is run on the schedule view, the Parameter name field will be a drop-down list with parameters available for processing (string parameters available for editing). If the "Itemized every instance" property is enabled in schedule settings, the list will contain only instance parameters. If the "Itemized every instance" property is disabled, the list will contain both instance and type parameters.
Perform numbering of elements in groups – process elements in groups
If the element in the group, then the check for the option to change the parameter without ungrouping. Parameter will change without ungrouping, if:
this is the system parameter "Mark"
this is a Shared project parameter with the "Values can vary by group instances" property enabled
In other cases, the plugin will try to change the parameter by ungrouping and re-creating groups
Attention! To perform item numbering in groups, groups will be ungrouped and then re-created. These actions can create problems in your project. Use this item at your own risk
Execute – performs numbered markings according to the settings
Clear – if the function is started in the schedule view, clears all marks in the specified parameter. If the function is not launched in the schedule view, it offers to select the elements for which the mark will be cleared in the specified parameter