Auto layers
Function is used to automatically add a layer to the created objects (dimensions, text, multileaders, hatch, tables, viewports)
---
CALL OPTIONS
ModPlus menu
ModPlus palette
AutoCAD ribbon
Command line:

_mpLayerAuto
---
ICON




---
DESCRIPTION
The function processes the creation, copying, pasting and other commands when working with AutoCAD objects - dimensions, text, multileaders, hatching, tables, viewports - and sets the layer specified in the function settings for them. There is an option to specify the specified layers for the selected objects
---
USING
Enable/Disable - enable/disable the function in the current drawing.
Set the layers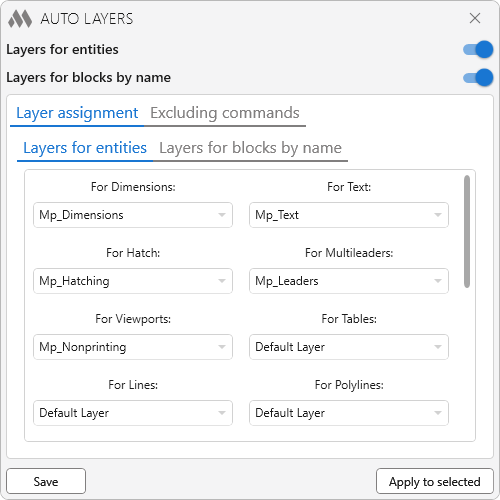 The group contains drop-down lists for selecting a layer for each specific object. The lists are filled with the names of the layers installed in this drawing. When choosing Default layer current layer of drawing will be assigned to the object. If the installed layer is then removed from the drawing, the object will be assigned a default layer.
The demo version of the function allows you to install auto layers only for dimensions and hatching
Excluding commands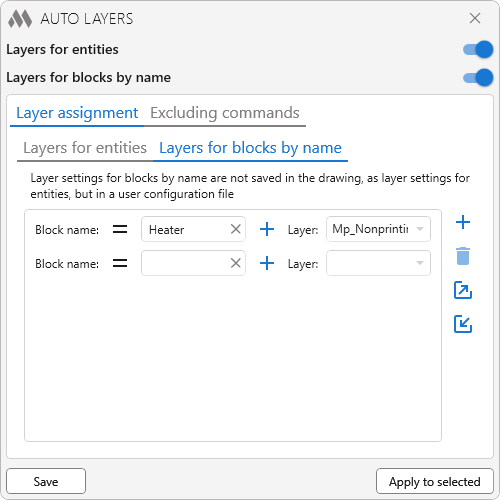 On this tab you can edit (add or remove) a list of commands to exclude from processing a function.
The standard command set for exclusion is not editable!
More on the forum.
---
Load - load previously saved layer configuration, provided they are present in the current drawing
Remember - remember the current layer configuration for quick setup
Save - save the current layer configuration and the list of commands to exclude. The layer configuration is configured and saved for each drawing separately. The list of commands for exclusion is saved in the configuration file
Apply to selected - allows you to select objects in the AutoCAD drawing, after which the objects handled by the function (Dimensions, Hatching, Text, Multileaders, Tables, Viewports) will be assigned layers according to the lists