CAD manager
---
---
ICON


---
DESCRIPTION
The function displays all types of inserted dwg files - both belonging to the types and not belonging to the views. It is possible to search in the list, copy the identifier of the dwg-insert or view, open the view containing the dwg-insert, and delete the dwg-insertion
---
USING
All the functions are performed directly through the Function window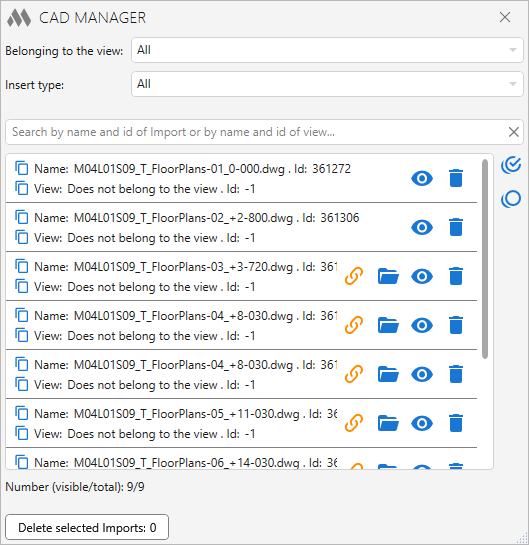 The function window does not block Revit. The list of dwg-imports changes dynamically when adding/removing dwg-imports using Revit and when switching the document.
Sorting – variant of sorting dwg-imports in the list. The sorting options are filled depending on the dwg-import in the list and there may be four options: all, View specific imports, Model imports, Unidentified.
Search by name or view – search on the fly in the list of dwg-imports.
Below is a list of dwg-imports of the current document. Each item in the list contains information about the dwg-import: the name of the dwg-import, the dwg id, the name of the view to which the dwg-import belongs, the view id. Each element allows you to perform some actions:
| | |
| --- | --- |
| | - copying the dwg or view id |
| | - select and display the dwg-import |
| | - remove dwg-import |
Elements in the list support multiple choice using the Ctrl or Shift key pressed and clicking the left mouse button. When you right-click the mouse, a context menu appears with a item Select all.
Delete selected elements – delete several dwg-imports in the list