Sheet copy
The function allows you to make copies of the specified sheets with different settings
---
---
ICON


---
USING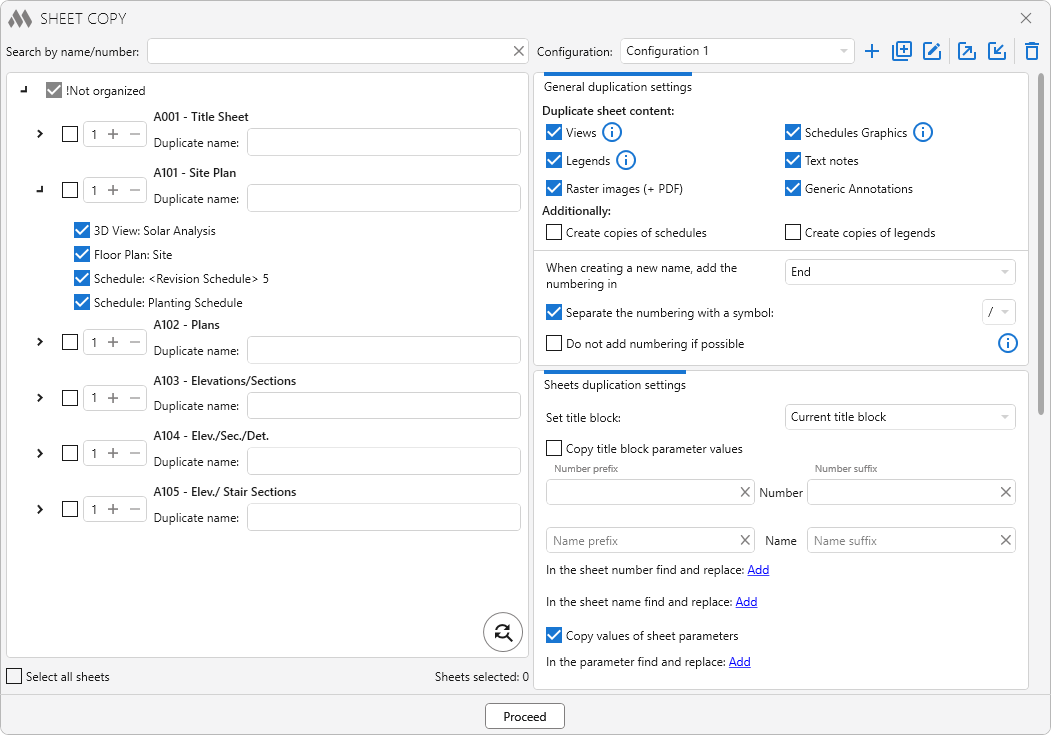 The left side of the function window contains a list of sheets of the current document
Search by name/number – text field for searching from the list of sheets. Works "on the fly" - enter a value and in the list there are only those sheets in the number or name of which the specified text is present. The search is case sensitive
Select all sheets – check the checkboxes on all sheets in the list or uncheck all the sheets in the list.
The function is available in two versions: Copy without views and Copy with views. The first option allows you to quickly create a blank duplicate sheet with the ability to change the main inscription. The second option allows to duplicate selected sheets with duplication of views located on these sheets
Sheet settings
Copy without views – inclusion of a variant of copying a sheet without views
Copy with views – Include a copy option with views
Dublicate Legends, Dublicate Schedules – the choice of the appropriate variant of duplication - duplicate or no legends and schedules.
Set title block: - drop-down list of main labels in the current drawing. When the sheet is duplicated, the selected title block in the list will be installed or the main label of the sheet will remain when the option Current title block is selected.
When duplicating a sheet to specify the uniqueness of a duplicate, you add the numbering to the sheet number. Numbering is added at the beginning or end of the sheet number, depending on the option selected in the window. You can also add a prefix and a suffix for the number and name of the duplicate sheet. In this case, the function will continue to number without taking into account the prefix and suffix of the sheet number. For example, if you duplicate a sheet with the number 1$А50, the prefix В- will result in a new sheet number В-2$А50
Do not add numbering if possible – if this checkbox is selected, if the duplicate number of the sheet is unique with the prefix and/or suffix, the numbering will not be added. Also this tick works for duplicate sheet names
View settings
View copy option: - view copy option – Dublicate, Dublicate with Detailing, Dublicate as a Dependent.
View template – applying the specified template to a duplicate view.
For a duplicate view, you can add a prefix and/or a suffix for the name. The numbering of duplicated views works in a manner similar to the numbering of duplicated sheets