Sheet numbering
Function for setting the sheet number in the document and in the volume in ModPlus format and title blocks
---
CALL OPTIONS
ModPlus menu
ModPlus palette
AutoCad ribbon
Command line:

_mpSheetNumbers
---
ICON




---
USING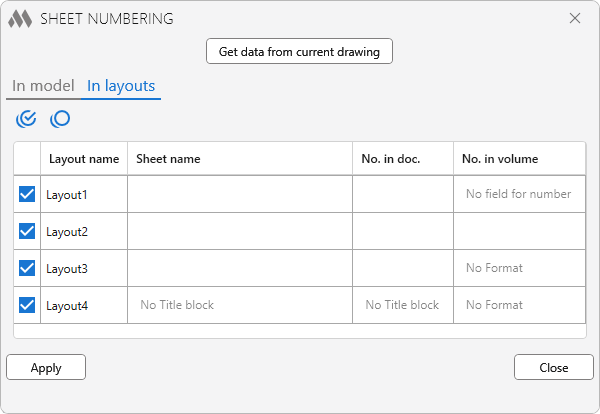 The function allows you to change the name and number of the sheet (values in the stamp) and the number of the sheet in the volume (the field in the upper right corner of the format).
Get data from current drawing - reading data from the current drawing, depending on the selected tab - in the model or in layouts. To search in model, you must first go to the model.
Data retrieval occurs by formats and stamps created by the functions of the ModPlus plugin. Depending on the presence of a format and/or a stamp in the list, the fields for indicating the name of the sheet, the number in the document and the number in the volume become active.
Unselect all/Select all - accordingly unselect all items in the list or select all items in the list
Apply - all values for sheets marked in the list will be recorded in stamps and formats. For formats, the number in the volume is added as a block attribute.
Close - close the window without applying changes