Revit. Copy values. Arithmetic rules and copying to nested families
Today the update of the Copy values plugin for Revit is out and in this article we will briefly tell you what new things have been added. And we have a lot to tell and you should take a few minutes to read it!

New option of copying - from parent family to nested families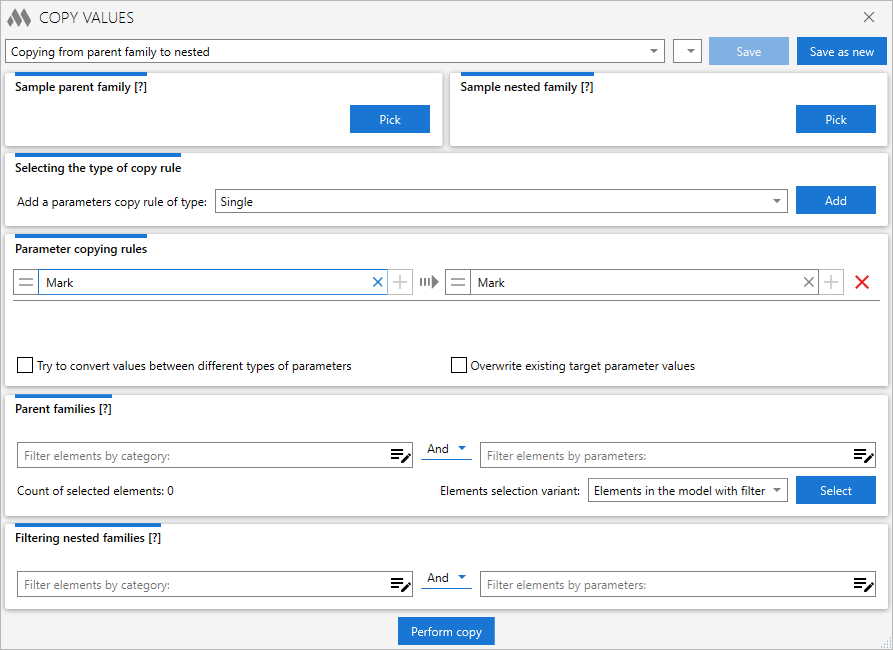 The copying variant is similar to copying from host to children, except for one detail - you don't need to select any nested families. The nested families are automatically searched, and you can add filtering by category and/or parameters if you want.
The new copying rule - composite arithmetic

Using this rule, you can compose a formula using source parameters (must be numeric or string, but numeric notation), the result of which will be written in the target parameter. You can use many arithmetic operators and functions when making up a formula! A list of available operators and functions can be found in the help.
Also, now there is a preview in composite rules and we removed the drop-down list of delimiters from the standard composite rule! You can now manually write any delimiters up to 3 characters long.
Also - parameters in composite rules can now be deleted!
Copying from linked files

Added the ability to select an element from a linked file as a source for the "Copying from one element to several" copying option.
Improved copying of numeric parameters
When you copy directly from parameter to parameter, you could get a situation where you copy one value (for example, 2500), and get another (8,2021). This is because all dimensional values in Revit are stored in feet, and the data type of the parameter affects the displayed value of the parameter. We've made some changes and now copying of numerical parameters is done through the display value, not through the internal one.
Other
We also removed the "Over windows" property, added linking of the plugin window to the Revit window (so the plugin window is over the Revit window, but not on top of other windows), fixed the error of showing an icon on the button for the parameter search option by name.
And in conclusion we want to say - we understand that the plugin is not convenient for cases when you need to create and use a large number of copy rules for different conditions. So far, we have not figured out how to improve this plugin and we are more inclined to create another, new plugin. If you have any ideas and suggestions - write - we always take into account the wishes of our users.
Enjoy your work with ModPlus!
Комментарии для сайта Cackle