Revit. Context Filter: three launch options
The first release of the Context Filter plugin was released yesterday, and today it has become obvious what is wrong with it. Using a combination of the Ctrl key pressed with a left-click is not the best solution.
Today I am correcting this mistake. And I'm not just fixing it, but giving users the opportunity to configure one of three (!) Filter launch options themselves: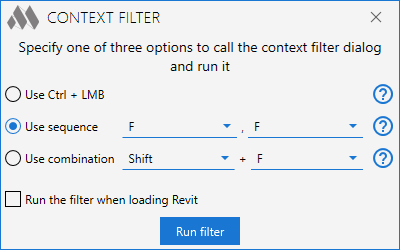 Now you can use the old version with Ctrl and mouse, use the key sequence (this option will be selected by default) or use the keyboard shortcut. As your heart desires!
And this plugin already has other ideas for expanding the functionality. But this is already in the future.
Enjoy your work with ModPlus!
Комментарии для сайта Cackle