Revit. Built-in commands: open view, select elements in a group or assembly
Sometimes we get requests to develop very small plugins that are designed to perform some small action. We don't want to clutter the ribbon with a lot of such plugins, so we decided to create built-in commands. These are small commands that are displayed in the standard editing panels.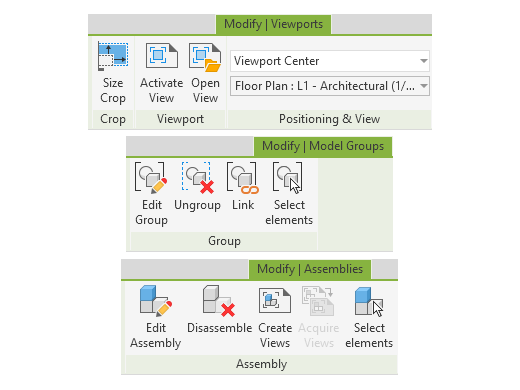 At the moment - release - we have added three built-in commands:
Open View

- enables you to open the selected view in a new tab. This is displayed when viewports are selected.

Select elements

- enables you to select all elements that are part of the selected groups or assemblies. Displayed when groups or assemblies are selected.
Many users may have the question "Why?". Yes, the view can be opened through the Project Manager, and selecting elements in a group is hardly useful, but believe us - there are users who will benefit from all this and who were able to ustify it all to us.
And if you have ideas for such small built-in commands - write to us!
Enjoy your work with ModPlus!
Комментарии для сайта Cackle