ModPlus for Revit. Walls Reinforcement. The preferred shape of the rebars
In the Walls Reinforcement plugin, an unexpected update - the ability to set the preferred shapes of rebars.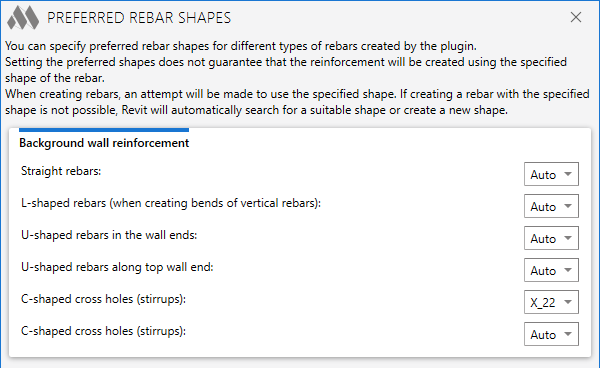 One of the users wrote to me and told me that when creating wall reinforcement in the ADSK template, the shape of the stirrups was not picked up in any way. In this case, the shape of the stirrup from the template (X_22) fully meets all the requirements described in this article.
I became interested and began to experiment, but I also did not succeed. In the end, I decided to try to create studs by explicitly specifying this shape in the code – and the studs were created with the desired shape. Another surprise from Revit.
Almost immediately I had the idea to add the ability to specify forms in the plugin. Not only for the "treatment" of this problem, but also in the case when the project has several similar forms and Revit substitutes not here (for example, there was a case when the project had two U-shaped forms, but the second was with different lengths of tails. Revit took the second, and it was necessary the first). After a little more thought, I decided not to add these forms to the reinforcement settings, but to put them in a separate window – it was easier for me to do, it is easier to configure and plus - these settings can be transferred, as they are stored in a separate file.
And most importantly-specifying the form does not guarantee that this form will be used. The rebar creation algorithm will now work like this - first it tries to create a rebar with the specified shape and if it does not work, it will create in the old way. It is important to understand that trying to apply a form, selecting a form, and creating a new form are all algorithms of Revit itself and cannot be controlled.
I hope the innovation will be of your liking. Enjoy your work with ModPlus!